Association for the Healthcare Environment (AHE)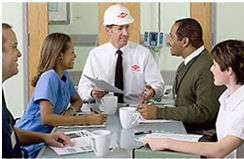 Orkin has worked for years to help environmental services professionals advance their learning. And we want to continue helping you meet and exceed Joint Commission requirements.
That's why we provide our Gold Medal™ Protection for Health Care customers like you with a complimentary AHE membership* (paid by Orkin Commercial Services) for the representative of your choice for as long as you are a Gold Medal customer.
We want you to be smarter, better informed and ready to succeed. So thanks for choosing the company that wrote the book on health care pest control, and enjoy your AHE membership on us.
Check out answers to frequently asked questions or complete your complimentary AHE membership application.
*Free AHE membership offer good for one membership per Gold Medal™ Protection contract. Orkin will continue to pay the AHE membership fee as long as the contract remains in good standing and on the Gold Medal™ Protection program. Orkin reserves the right to end AHE membership offer at any time.