Orkin Odor Control Services & Products
Odors are an invisible threat to your business. Don't lose customers because of unpleasant odors or the pest problems that can come with them. Orkin's Odor Control Service offering can help you control odors in three different ways, depending on your situation.
Dumpsters & Trash Chutes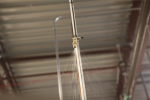 The odors produced by garbage cans be more than just offensive to employees, customers and neighbors; they can also attract unwanted pests such as flies. Orkin Actizyme™ Odor Neutralizer alters odor molecules and increases the breakdown of organic matter to safely eliminate offensive odors.
Bathrooms

A fresh-smelling restroom speaks well of your business, minimizing complaints and the loss of repeat customers. Orkin AutoFresh® provides maximum odor control by dispensing precise neutralizing fragrances to help create a pleasant bathroom environment.
Large Commercial Spaces

Odors in large, enclosed areas can sometimes be the hardest to control. Orkin Scent Beam QT with Flow Thru™ Refills is specially designed to manage even the toughest odors in areas of up to 40,000 cubic feet.
We offer four unique Scent Beam fragrances to help you create a customized ambience for your business or just the specific area to be treated. Scent Beam can be used in place of multiple fan-based air fresheners, and the fragrance refills last up to a month.
Request a free Odor Control consultation today to find more about Orkin Odor Control services.