We were solving bed bug problems before they were a news item.
Orkin's Three Advanced Detection Options
Orkin offers three proactive detection services to help you detect bed bugs earlier, protect your business's reputation and avoid expensive remediation costs:
Ongoing Visual Inspections – A specialist trained to detect bed bugs will inspect key areas of your establishment on a regular basis looking for the first signs of bed bugs, so remediation can be quick and discreet. Commercial Bed Bug Inspection
Inspections with DNA Testing – Our bed bug DNA testing procedure can tell with 99.9 percent accuracy whether bed bugs have been in the tested area. DNA testing can also help provide evidence of the absence of bed bugs. Bed Bug DNA Testing
Inspections with Canine Assistance* – Canine inspections are fast and accurate, minimizing downtime and maximizing efficiency.
Orkin also offers several treatment options for bed bug infestations: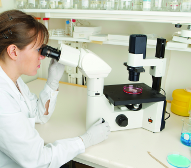 Treatment Program for Active Infestations – We use a variety of treatments, including steam, to kill bed bugs and their eggs in places with likely human contact, followed by residual treatments in box springs, hard furniture and wall voids to provide long-term control.
Orkin Heat™* – An environmentally friendly process that involves heating the infested area and its contents to a high temperature and holding it for a predetermined time to eradicate bed bugs, Orkin Heat™also addresses a variety of other pests, including stored product pests, spiders, cockroaches, termites, ants and many more. Orkin's Heat Treatment for Bed Bugs
Encasements for Beds & Furniture – Stop bed bug infestations from spreading and help prevent future infestations with encasements that are soft to the touch and conform to fit any mattress, box spring or pillow. Also available for sofas, love seats and recliners.
Staff Training – We can train your staff with a free initial training session on how to inspect for and spot the signs of bed bugs.
*Available in select areas