An Investment in Your Property and Your Business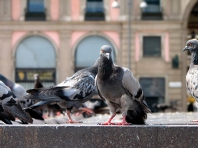 To be most effective, bird control methods must be tailored to the specific bird species and situation. Orkin uses a variety of methods to control pest birds:
Identification — We'll identify problem bird species present, feeding and watering locations, roosting, nesting and loafing areas, and any potential risk to nontargeted species.
Habitat Modification — We'll apply bird repellant and exclusion solutions as needed, such as netting, filling holes in building facades, gels, bird coils and bird wire.
Mechanical Traps or Other Treatments — Used outside your building, traps can be a temporary but effective solution to your bird problem. When necessary, chemical methods such as Avitrol and Avitrol Fog may be employed as a control.
Ongoing Monitoring and Maintenance — We'll conduct regular inspections of your property and equipment installations, recommendations and written service reports.
Request a free consultation on Orkin's bird program today.