Your Class "A" Office Space Deserves Class "A" Pest Control
You don't let just anyone lease space in your property. You want tenants whose reputations add real value. Shouldn't your pest management provider's reputation do the same?

As one of the most respected pest management providers in the country, Orkin understands the unique challenges facing office properties. When you choose Orkin, you don't get an exterminator. You get:
A provider with more than a century of experience who will partner with you to meet your unique pest management needs.
A scientifically trained Commercial Pest Specialist well-versed in treatment techniques that conform to industry standards.
On LEED or GreenPro standards? Choose Orkin Element™

For businesses with strict sustainability needs, Orkin Element™ is built on our rigorous Integrated Pest Management (IPM) protocols that meet or exceed GreenPro or LEED pest management standards.
Proud BOMA Partner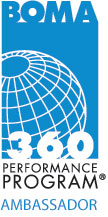 As a BOMA International Cornerstone Partner, Orkin works closely with the association to develop educational resources for its members and clients. Orkin is also a proud supporter of the U.S. Green Building Council, International Facility Management Association (IFMA) and the National Association of Residential Property Managers (NARPM).
Orkin Commercial Services for Office Property Management
We understand pest management challenges are unique to every commercial environment, so our products and services are tailored to your industry. See below for more information on Orkin's solutions for office property management.
Free Consultation from Orkin Commercial
Are you ready for "Class A" pest control? Let us work with you to develop an Integrated Pest Management (IPM) program that meets your specific needs.