Customer care
SATISFACTION GUARANTEED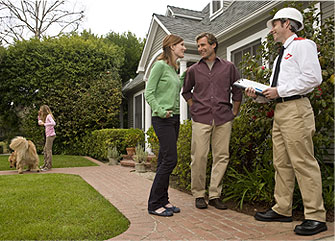 Caring for your home is our business. We're not satisfied until you're satisfied. So, if you have a pest control problem between service visits, we'll keep coming back until it's solved or we'll refund your last service payment. Orkin's guaranteed service is second to none. We have over 100 years of experience and almost 2 million satisfied customers to prove it. Read more about choosing an exterminator, and what to expect when you do.
Schedule service
Are you a new customer? Call us at 888-215-0059 or schedule an Orkin service using our convenient Schedule Service form.
The Orkin guarantee
If pests return between visits, we'll come back at no extra charge. And if we're unable to solve your pest problem to your satisfaction, we'll refund your last service payment as long as you're a customer.
If you're not completely satisfied with your termite program's results, simply write to Orkin within 30 days of your initial treatment. If Orkin is unable to rectify the problem within 30 days of written notification, we guarantee to refund your initial treatment charge and any prepaid renewal.
AutoPay
Are you a current Orkin customer? Save time and make your life a little easier.
Learn more about AutoPay, our convenient payment method.
Ask the expert. Ask The Orkin Man™.
Ask The Orkin Man™ anything you've wanted to know about bugs and pest control.
Contact us
Orkin is always there when you need us. If you need immediate assistance, please call Customer Care at 1-888-ORKINMAN. Questions about your service? Contact us using our convenient online form.
Mailing address
Orkin 2170 Piedmont Rd. NE Atlanta, GA 30324
Technical help
For technical help with our website, contact our Webmaster at webmaster@orkin.com.