Pest & Termite Treatment Service for
AZ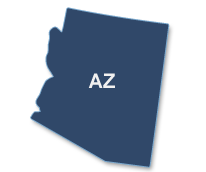 Although your pest problem may be specific to your region and the season, new pests can threaten your home throughout the year. That's why Orkin's pest control specialists tailor a solution to your exact situation—making sure you get maximum protection with minimum exposure.
Orkin treats year-round in your neighborhood or residential area for pests like ants, bedbugs, bees, centipedes, earwigs, fleas, flies, hornets, mice, mosquitoes, roaches, rats, ticks, spiders, all types of termites, wasps and more. With more than 400 branches nationwide, the best-trained professionals anywhere will develop a customized solution to suit your unique needs. It's why almost 2 million customers choose Orkin.
Select your city to see local Orkin branch offices, available services and contact information to schedule service now. For an estimate or home inspection, don't just call an exterminator. Call an expert. The Orkin Man™.
MESA

Branch #881

1116 S. Center St.

Mesa, AZ  85210

Services:

Termite Control

Pest Control

Serving Chandler, Coolidge, Fountain Hills, Globe, Higley, Maricopa, Mesa, Miami, Queen Creek, Sacaton, San Tan Valley, Tempe

PHOENIX

Branch #896

7060 W. Augusta Ave.

Glendale, AZ  85303

Phone: (877) 250-1652

Fax (623) 930-1898

Services:

Termite Control

Pest Control

Serving Aguila, Arlington, El Mirage, Glendale, Goodyear, Laveen, Luke AFB, New River, Palo Verde, Sun City West, Wickenburg, Wittmann, Youngtown

PHOENIX COMMERCIAL

Branch #894

38830 W. Indian School Rd.

Phoenix, AZ  85019

Phone: (877) 250-1652

Fax (602) 278-1455

Services:

Termite Control

Pest Control

Serving Apache Junction, Carefree, Fort McDowell, Glendale, Morristown, Peoria, Rio Verde, Scottsdale, Surprise, Tonopah, Tortilla Flat, Waddell

PRESCOTT VALLEY

Branch #905

   8230 E. Pecos Dr.

   Prescott Valley, AZ  86314

   Phone: (877) 250-1652

   Fax (928) 567-5101

Services:

Termite Control

Pest Control

Serving Alpine, Ash Fork, Bagdad, Bellemont, Black Canyon City, Blue Gap, Bouse, Bullhead City, Cameron, Camp Verde, Chambers, Chinle, Chino Valley, Chloride, Cibecue, Cibola, Clarkdale, Clay Springs, Colorado City, Concho, Congress, Cornville, Cottonwood, Crown King, Dennehotso, Dewey, Dolan Springs, Eagar, Ehrenberg, Flagstaff, Forest Lakes, Fort Apache, Fort Defiance, Fort Mohave, Fredonia, Ganado, Golden Valley, Grand Canyon, Gray Mountain, Greer, Hackberry, Happy Jack, Heber, Holbrook, Hotevilla, Houck, Hualapai, Humboldt, Indian Wells, Iron Springs, Jerome, Joseph City, Kaibeto, Kayenta, Keams Canyon, Kingman, Kirkland, Kykotsmovi Village, Lake Havasu City, Lake Montezuma, Lakeside, Leupp, Littlefield, Lukachukai, Lupton, Many Farms, Marble Canyon, Mayer, McNary, Meadview, Mohave Valley, Mormon Lake, Munds Park, Nazlini, North Rim, Nutrioso, Oatman, Overgaard, Page, Parker, Parks, Paulden, Payson, Peach Springs, Petrified Forest National Park, Pine, Pinedale, Pinetop, Pinon, Polacca, Poston, Prescott, Prescott Valley, Quartzsite, Red Valley, Rimrock, Rock Point, Round Rock, Saint Johns, Saint Michaels, Salome, Sanders, Second Mesa, Sedona, Seligman, Shonto, Show Low, Skull Valley, Snowflake, Springerville, Sun Valley, Supai, Taylor, Teec Nos Pos, Temple Bar Marina, Tonalea, Tonto Basin, Topock, Tsaile, Tuba City, Valentine, Vernon, Wenden, White Mountain Lake, Whiteriver, Wikieup, Williams, Willow Beach, Window Rock, Winslow, Woodruff, Yarnell, Young, Yucca

SCOTTSDALE

Branch #882

7410 E. Helm Dr.

Scottsdale, AZ  85260

Phone:(877) 250-1652

Fax (480) 483-8402

Services:

Termite Control

Pest Control

Serving Arlington, Carefree, Cave Creek, Chandler, Fort McDowell, Fountain Hills, Glendale,  Luke AFB, Maricopa, Mesa, New River, Palo Verde, Paradise City, Phoenix, Rio Verde, Sun City West, Wittman, Youngstown
Customer Testimonials & Reviews
I just want to let you know that I was pleased with the Orkin Man's work. He came in the house, looked the situation over, and set about doing what he had to do. He is very serious about his work and a credit to Orkin.
Phoenix, Arizona
We have had Orkin service for many years. Each time we relocate, we move our service to the new address. People always take time to complain, so I am taking the time to let you know the Orkin Man is doing an excellent job.
Mesa, Arizona
I would like to comment on the professional manner in which Orkin Pest Control representatives conducted themselves in the service of 800 Model Cities units. We ran into some difficulties in the initial service (due to communication problems and lack of understanding on the part of tenants). But the Orkin Men were very understanding of the problems and many times went out of their way to service a unit. It was a pleasure to work with the professionals of Orkin.
Tucson , Arizona
We wish to express Royal Nursing Home's deep gratitude to the Orkin Men for all they did. They were always polite and diligent about their work even though the time at which they were performing their task was demanding. Royal residents and staff truly thank you for a predominantly pest-free environment. We will sing your praises and highly recommend Orkin Pest Control and especially your branch. You clearly demonstrated that you are the leaders in pest control.
Mesa, Arizona
The Orkin Man was very concerned about our cricket problem and took special efforts to schedule visits. He is conscientious, thoughtful, and kind.
Tucson , Arizona
You are to be congratulated for having these men. Each was very pleasant and helpful with a likable personality.
Mesa, Arizona
For three years, our Orkin Man has done an excellent job handling our account. He is quick, efficient, personable, and does a superior job of selling Orkin.
Mesa, Arizona
The Orkin Man is conscientious and courteous. We've never had such an excellent one.
Mesa, Arizona
On Saturday, July 19, I was on the freeway with a friend and four children when our car broke down. It was blazing hot and traffic was moving very fast. The Orkin Man pulled over to offer his assistance. He looked under the hood of the car, called AAA, and waited with my friend until the tow truck arrived. Another privately owned vehicle, also, stopped to offer assistance and took the four children and me to our destination, a birthday party. It is so good to know there are still good people out there who you can trust. I have told all my friends about the Orkin Man and what a Good Samaritan he was. Thank you for hiring such trustworthy people. He should be commended for going out of his way to help us two grandmas in the middle of the summer on a freeway in Arizona.
Scottsdale, Arizona