Pest & Termite Treatment Service for
OK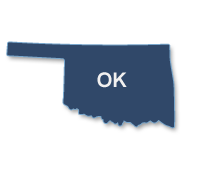 Although your pest problem may be specific to your region and the season, new pests can threaten your home throughout the year. That's why Orkin's pest control specialists tailor a solution to your exact situation—making sure you get maximum protection with minimum exposure.
Orkin treats year-round in your neighborhood or residential area for pests like ants, bedbugs, bees, centipedes, earwigs, fleas, flies, hornets, mice, mosquitoes, roaches, rats, ticks, spiders, all types of termites, wasps and more. With more than 400 branches nationwide, the best-trained professionals anywhere will develop a customized solution to suit your unique needs. It's why almost 2 million customers choose Orkin.
Select your city to see local Orkin branch offices, available services and contact information to schedule service now. For an estimate or home inspection, don't just call an exterminator. Call an expert. The Orkin Man™.
BARTLESVILLE

Branch #846

2636 South E. Washington Blvd.

Services:

Serving Avant, Barnsdall, Cardin, Eucha, Fairland, Foyil, Maramec, Miami, North Miami, Pryor, Strang, Wynona

ENID

Branch #848

2421 N. Van Buren St.

Services:

Termite Control

Pest Control

Serving Boise City, Cleo Springs, Coyle, Gage, Jet, Kenton, Kingfisher, Kremlin, Marshall, Meno, Wakita, Watonga

LAWTON

Branch #850

1401 S.E. 1st St.

Services:

Termite Control

Pest Control

Serving Burneyville, Calera, Carnegie, Cyril, Daisy, Loco, Mead, Mill Creek, Ringling, Wapanucka, Wardville, Wynnewood

MOORE

Branch #971

2602 N. Moore Ave.

Services:

Termite Control

Pest Control

Serving Asher, Blanchard, Byars, Dibble, Lexington, Macomb, Newalla, Newcastle, Purcell, Saint Louis, Tecumseh, Washington

MUSKOGEE

Branch #852

709 N. 41st St., E.

Services:

Termite Control

Pest Control

Serving Braggs, Clayton, Konowa, Leflore, Paden, Rufe, Shady Point, Spencerville, Stidham, Stigler, Tuskahoma, Wright City

OKLAHOMA CITY

Branch #856

3620 S. Moulton Dr.

Services:

Termite Control

Pest Control

Serving Arcadia, Bethany, Crescent, Guthrie, Harrah, Langston, Mustang, Piedmont, Prague, Sparks, Wheatland, Yukon

TULSA

Branch #858

6550 E. 40th St.

Services:

Termite Control

Pest Control

Serving Inola, Kellyville, Mannford, Mounds, Oilton, Owasso, Sapulpa, Shamrock, Skiatook, Sperry, Talala, Terlton
Customer Testimonials & Reviews
We have lived in Oklahoma for almost 11 years. During this time, we used many different pest control companies. We are very thrilled to have found Orkin and be assigned our current Orkin Man. He is the most thorough, most knowledgeable and most efficient pest control professional we have had the pleasure to meet. Our confidence in your company and products is enhanced by the work ethic and attitude of this Orkin Man.
Muskogee, Okla.
The Orkin representative on the phone was so courteous and pleasant when I called. The Orkin Man followed up the same day with the inspection, taking the time to very thoroughly explain what was needed. This left me with the assurance that all would be taken care of. The Orkin Men who did the job worked expeditiously and with politeness, leaving my home in good shape and leaving me with the peace of mind that a job was well done.
Tulsa, Okla.
The Orkin Man was very kind, courteous and apparently very knowledgeable. How I wish there were more like him in other fields of service.
Oklahoma City, Okla.
The Orkin Man is prompt, courteous, meticulously careful with our home and possessions, and always willing to answer our questions and perform requested services. He does not miss an opportunity to promote Orkin and the services offered. A dedicated employee in today's business climate is rare enough, but he is also a positive, confident cheerful spokesman for your company. An individual such as this does much to promote public education of your product.
Tulsa, Okla.