Pest & Termite Treatment Service for
PA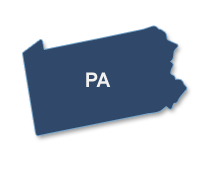 Although your pest problem may be specific to your region and the season, new pests can threaten your home throughout the year. That's why Orkin's pest control specialists tailor a solution to your exact situation—making sure you get maximum protection with minimum exposure.
Orkin treats year-round in your neighborhood or residential area for pests like ants, bedbugs, bees, centipedes, earwigs, fleas, flies, hornets, mice, mosquitoes, roaches, rats, ticks, spiders, all types of termites, wasps and more. With more than 400 branches nationwide, the best-trained professionals anywhere will develop a customized solution to suit your unique needs. It's why almost 2 million customers choose Orkin.
Select your city to see local Orkin branch offices, available services and contact information to schedule service now. For an estimate or home inspection, don't just call an exterminator. Call an expert. The Orkin Man™.
BENSALEM

Branch #308

1810 Byberry Rd., Suite A

Services:

Termite Control

Pest Control

Serving Abington, Bridgeport, Furlong, King of Prussia, Kintnersville, Levittown, Montrose, Revere, Riegelsville, Springtown, Tylersport, Willow Grove

BRIDGEVILLE COMMERCIAL

Branch #647

255 Millers Run Rd.

Services:

Termite Control

Pest Control

Serving Adamsburg, Bridgeville, Butler, Commodore, Curtisville, Darragh, Dunlevy, Houston, Jamestown, Marianna, Sagamore, West Sunbury

HARRISBURG

Branch #957

Services:

Termite Control

Pest Control

Serving East Waterford, Enola, Grantville, Halifax, Ickesburg, Mexico, Middletown, Mount Gretna, Pillow, Summerdale, Wiconisco, Williamstown

KUTZTOWN

Branch #942

15530 Kutztown Rd., Suite 3

Services:

Termite Control

Pest Control

Serving Ackermanville, Albrightsville, Alburtis, Allentown, Andreas, Aquashicola, Ashfield, Ashland, Auburn, Bally, Bangor, Barnesville, Barto, Bath, Beaver Meadows, Bechtelsville, Bernville, Bethel, Bethlehem, Birdsboro, Blandon, Bowers, Bowmanstown, Boyertown, Branchdale, Breinigsville, Brockton, Catasauqua, Center Valley, Centerport, Cherryville, Coaldale, Coopersburg, Coplay, Cressona, Cumbola, Danielsville, Delano, Douglasville, Earlville, East Greenville, East Texas, Easton, Elverson, Emmaus, Fleetwood, Flicksville, Fogelsville, Frackville, Fredericksburg, Friedensburg, Geigertown, Germansville, Gilberton, Girardville, Gordon, Hamburg, Hegins, Hellertown, Hereford, Jim Thorpe, Junedale, Kelayres, Kempton, Klingerstown, Kunkletown, Kutztown, Lake Harmony, Lansford, Laurys Station, Lavelle, Leesport, Lehigh Valley, Lehighton, Lenhartsville, Limekiln, Limeport Llewellyn, Locustdale, Lost Creek, Lyon Station, Macungie, Mahanoy City, Mahanoy Plane, Mar Lin, Martins Creek, Mary D, Maxatawny, McAdoo, Mertztown, Middleport, Minersville, Mohnton, Mohrsville, Monocacy Station, Morgantown, Mount Aetna, Mount Bethel, Muir, Myerstown, Nazareth, Neffs, Nesquehoning, New Berlinville, New Philadelphia, New Ringgold, New Tripoli, Northampton, Nuremberg, Old Zionsville, Oley, Oneida, Orefield, Orwigsburg, Palm, Palmerton, Parryville, Pen Argyl, Pine Forge, Pine Grove, Pitman, Port Carbon, Port Clinton, Portland, Pottsville, Quakake, Ravine, Reading, Rehrersburg, Reinholds, Richland, Riegelsville, Ringtown, Robesonia, Sacramento, Saint Clair, Schnecksville, Schuylkill Haven, Seltezer, Shartlesville, Shenandoah, Sheppton, Shoemakersville, Slatedale, Slatington, Spring Glen, Stockertown, Strausstown, Summit Hill, Summit Station, Tamaqua, Tatamy, Temple, Topton, Tower City, Treichlers, Tremont, Tresckow, Trexlertown, Tuscarora, Valley View, Virginville, Walnutport, Weatherly, Wernersville, White Haven, Whitehall, Wind Gap, Womelsdorf, Zion Grove, Zionsville

MONROEVILLE

Branch #480

706 Seco Rd.

Services:

Termite Control

Pest Control

Serving Acme, Baden, Boswell, Glassport, Herminie, Indiana, Jones Mills, New Bethlehem, Seward, Trafford, Wexford, Whitney

PHILIPSBURG

Branch #933

331 Enterprise Dr, Suite C

Services:

Termite Control

Pest Control

Serving Elmora, Houtzdale, Loganton, Martinsburg, Montandon, Montoursville, Newton Hamilton, Nicktown, Northern Cambria, Sidman, Smithmill, Weikert

PITTSBURG

Branch #481

90 W. Chestnut St

Washington, PA  15301

Phone: (877) 250-1652

Fax: (724) 229-5702

Services:

Pest Control

Termite Control

Serving Belmont County, OH; Carroll County, OH; Columbiana County, OH; Harrison County, OH; Jefferson County, OH; Monroe County, OH; Allegheny County, PA; Beaver County, PA; Fayette County, PA; Greene County, PA; Washington County, PA; Brooke County, WV; Hancock County, WV; Marshall County, WV; Ohio County, WV; Tyler County, WV; Wetzel County, WV;

SHARON HILL

Branch #691

100 Henderson Dr., Bay 103

Sharon Hill, PA 19079

Phone :(877) 250-1652

Fax :(610) 586-8992

Services:

Termite Control

Pest Control

Serving Barrington, Blue Bell, Brookhaven, Devon, Fairless Hills, Haddon Heights, Media, Merchantville, Pennsauken, Philadelphia, Villanova, West Point

WILKES BARRE

Branch #947

840 Wilkes Barre Township Blvd.

Wilkes Barre Township, 

PA

18702

Services:

Termite Control

Pest Control

Serving Bartonsville, Chinchilla, Dallas, Falls, Hamlin, Hawley, Lackawaxen, Lake Winola, Millrift, Rock Glen, Scotrun, South Sterling

YORK

Branch #316

130 Rose Ct.

Services:

Termite Control

Pest Control

Serving Aspers, Bowmansville, Cashtown, Codorus, Delta, Gardners, Hanover, Kinzers, Lancaster, Maytown, Silver Spring, Wrightsville
Customer Testimonials & Reviews
I was disturbed by a swarm in my vestibule. I called Orkin. I did not believe I could get help on a late Friday, pre-weekend call. However, the Orkin Man called back and assured me he would come to my house in a short while. He lived up to his promise. He thoroughly explained the problem in lay person's language, so I understood the condition. Although the monetary expense was higher than others, He reviewed my needs and the comprehensive and continuing services of Orkin compared to competition. I explained I was selling the home due to financial difficulties, and he suggested the credit plan. My sister and her husband arrived at the time he was there and their nature is one not so easily sold. They were impressed by his explanations, his thoroughness and his sincerity. He conveyed a feeling of trust. The next day he arrived to observe and work closely with another Orkin Man, obviously an all-work, no-nonsense employee. I asked him some technical questions, and he came through with advice and courtesy. His diligence, self-directedness and compassion with a senior citizen (me) were appreciated. Both Orkin Men are the cream of the pest control crop. They went the extra mile and the extra smile.
Bensalem, Penn.
He is the greatest, and it was a pleasure doing business with him. I only wish there were more Orkin Men in the world. Happily, I report that my house is free of fleas, bugs and spiders.
Philadelphia, Penn.
It is a pleasure to write you in praise of the Orkin Man. He has serviced my home in Pittsburgh, Penn., for some time now. As I am a manager of a 100-unit high rise and have daily contact with salesmen, maintenance people and servicemen, I feel qualified to make the following comments. He is a very mannerly and considerate person. When he enters my home, it is more like a friend than a service call. He asks about me and my dogs, and has such a pleasant manner about him. He is an excellent representative of Orkin. I am sure you are aware of this, but I must compliment your choice of employee.
Pittsburgh, Penn.
I was very impressed with his professional appearance and demeanor. The Orkin Man obviously knew his subject matter and showed he enjoys servicing the customer.
Philadelphia, Penn.