Bed Bug Bites
Bed bugs feed on blood as their only source of nutrition. In order to mature into adults, they must feed once during each of their immature stages. Adult females also need blood in order to produce eggs. Although bedbugs do bite humans, they are not known to transmit diseases to people.


Bed Bug on Hand
Bed bugs pierce human skin with elongated beaks through which they extract blood. Bed bug bites are not initially painful and can go unnoticed for hours or days. This allows bed bugs to withdraw human blood for up to 10 minutes with each feeding. Bed bug bites occur most commonly on exposed skin, such as the upper body, neck, arms and shoulders.
Bite Symptoms
Some individuals who are bitten by bed bugs develop itching, red welts or swelling the day after being bitten. However, bites may not become obvious for several days or at all on some individuals. Many people do not react at all to the bite of a bed bug—many bites leave no mark and go completely unnoticed.
Unlike those of other insects, bed bug bites may sometimes appear in tight lines of multiple, small, red marks where multiple bed bugs have fed along an exposed area. Bed bug bites can cause itchiness. Initially, a victim may detect a slight burning sensation. The burning area then develops red bumps, known as papules or wheals (rash). In extreme cases, bites may swell dramatically or turn into blister-like skin inflammations.
If you develop a rash after being bitten by a bed bug, avoid scratching the affected area. If the rash persists or becomes infected, contact a medical professional immediately.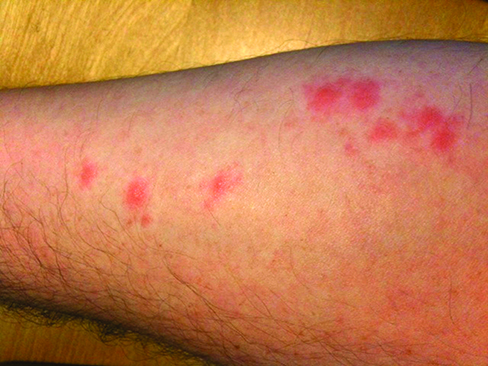 Bed Bug on Skin