Scorpions
Facts, Identification & Control
Latin Name
Order Scorpiones
Appearance
Scorpions are arachnids that possess eight legs. They are related to spiders, mites and ticks, as well as other members of the Arachnida class.
The scorpion's anatomy is composed of two segments called the cephalothorax—also known as the abdomen/opisthosoma. It is composed of an extended body and a segmented, erectile tail, which ends with the stinger. A hard, bony outer covering known as the carapace protects the cephalothorax. This covering supports a pair of median eyes at the top center.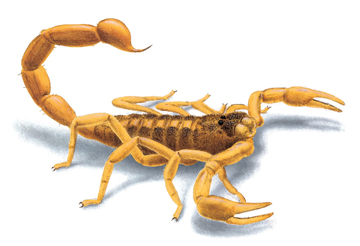 Anatomy
Spider vs. Scorpion Identification
Behavior, Diet & Habits
Scorpion Bites
Scorpion concerns usually stem from the sting, which can contain venom, and not from an actual bite. No scorpion venom in the U.S., with one exception, is viewed as a significant medical threat to the average person. In a human victim, a scorpion's venom may cause symptoms like swelling at the site of the sting. However, some people experience numbness and convulsions. In extreme cases, some people may experience difficulty in breathing. People who are allergic are more likely to die from a dangerous scorpion's venom. Their chance of survival improves if they receive an injection of antivenom in time to counteract the sting's effects.
Stings
Scorpion Habitats
Scorpions live in very dry climates. Despite this, they are very sensitive to the loss of moisture from their body and hide during the day in shady locations. They obtain most of their water from their prey.
Reproduction
Female scorpions carry their eggs inside their bodies. When the young leave the female's body, they climb onto the mother's back. They stay on the mother's back until they have gone through their first molt. After that, they climb down and scatter.
Small scorpions resemble adult scorpions. As they age, they shed their exoskeletons. A young scorpion's progress is measured by the molting stage, since it requires five to seven molts to reach maturity.
Scorpions prefer warm and relatively dry habitats. They find shelter during the day in underground holes or undersides of rocks.
Scorpions become nocturnal when they are old enough to hunt and feed. They invade predators' homes such as birds, centipedes, lizards, mice, opossums and rats. When hunting for a prey, they use their chelae, or pincers, to either crush or inject their victims with neurotoxic venom, which actually paralyzes or kills their prey. They use small, clawlike structures that protrude from their mouths for eating. Scorpions can only take in their food in a liquid form and will dispose of any solid matter before ingestion.
Life Span
A scorpion's life span ranges between three and five years, but some have been known to live up to 10 to 15 years.
Signs of a Scorpion Infestation
Scorpions typically do not leave signs, other than visual sightings of themselves.
More Information
Scorpion Species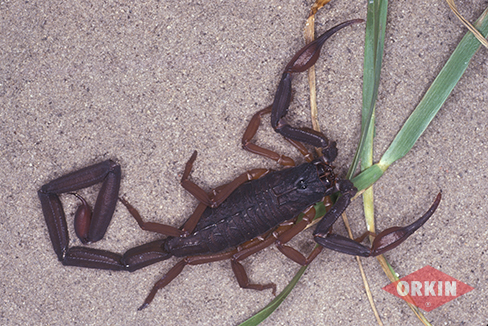 Presently, there are 1,200 known species of scorpions in the world—and all of these scorpions are dangerous to some degree. Among types of scorpions, the smaller species are often more venomous—larger scorpions compensate by appearing more formidable to potential predators.
One of the more infamous varieties of dangerous scorpions roaming the American Southwest is the Arizona bark scorpion (Centruroides sculpturatus). Deaths have been attributed to the venom of these dangerous creatures, but the numbers are uncertain.
The fat-tailed scorpion (Androctonus australis) is also one of the more notorious members of the deadly scorpion class. It is believed that this treacherous scorpion is responsible for numerous fatalities in North Africa and the Middle East, where it is very common. It is also known to be quite aggressive, and its venom can be especially deadly to the aged and to children, due to their weaker immune systems and small bodies, respectively. This is one dangerous scorpion that people should really try to avoid.
Another dangerous member of the scorpion family is the aptly named death stalker (Leiurus quinquestriatus). It is native to both the northern and southern hemispheres of Africa and is commonly found in its deserts. Its venom has been proven to be potent.
Types
Types and Species of Scorpions
More Information
What Is the Difference Between a Scorpion and an Insect?