Flying Ants vs. Termites
Here are some simple ways to distinguish flying termites (swarmers) from winged ants.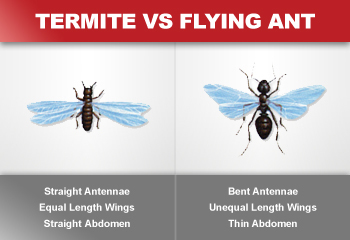 Winged termites have a straight waist and straight antennae. Their wings are equal in size and are shed soon after they emerge from their nest, or swarm. Winged termites usually swarm in the early spring when it is warm and rainy.
Flying ants have pinched waists and bent antennae and are often mistaken for swarming termites. They have two sets of wings, one larger than the other. Depending on their species, flying ants may swarm at different times of the year.
In summary:
Termites have:

View all termites
View all ants