Orkin's Commitment to Education
Orkin in Schools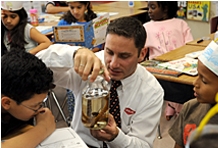 Orkin's formal commitment to public education dates back to the 1950s when local Orkin professionals first began making educational presentations in neighborhood schools. These days, teachers can sign up online for free Orkin Man School Presentations and bring Orkin specialists into the classroom to teach about insects' important role in the environment. By promoting its program at National Science Teachers Association conferences, Orkin has helped educators across the country leverage these presentations to add a new dimension to elementary school science curriculum.
Orkin's Junior Pest Investigators program, a free series of K-6 lesson plans, written by teachers and approved by national school pest management experts, teaches children to think differently about pests and pest management. Educators can download the free lesson plans and activities and conduct class projects.
Educational Exhibits
Orkin is proud to be the founding donor of the O. Orkin Insect Zoo at the Smithsonian Institution's National Museum of Natural History, the most visited museum in the world. The O. Orkin Insect Zoo teaches that insects play a vital role in the environment, and they only become pests when they damage human health or property.
Orkin also sponsors the Orkin Children's Zoo at Zoo Atlanta. The Orkin Children's Zoo has three components: a South American-themed exhibit, an Australian-themed "Outback Station" and a spacious petting zoo, as well as cabins for overnight educational safari visits.