Is there any way to get rid of mosquitos?
Question: Is there any way to get rid of mosquitos?
ANSWER: Mosquitoes around the house or yard are not easy to control. You have to start by locating their breeding site and eliminate it.
Most common species of mosquitoes use standing water as the breeding site. The female mosquito lays eggs in almost any standing water—tin cans, old tires, clogged gutters, birdbaths and similar items that hold water. The adult mosquitoes often stay fairly close to the breeding site. If there is a problem in the yard or around the house, look first in the yard or adjacent property for standing water.
Try to avoid being outdoors at dusk and dawn—this is when many mosquitoes bite. If you must be outdoors during these times, use repellents and wear light-colored clothing.
Call your local Orkin Branch Office. A highly trained Orkin Pest Specialist will conduct a thorough inspection of your property and determine where the mosquito breeding areas are. Upon assessing the situation, your Orkin Pest Specialist will develop a scientifically proven Mosquito Control Treatment Protocol customized for your situation.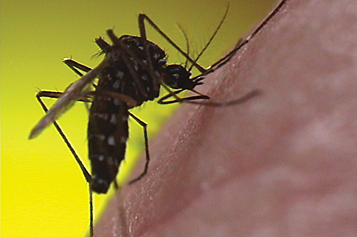 Image of an Asian Tiger Mosquito Biting a Human
---
Our Pest Library
Find out more about your suspects
Our Pest Library is full of up-to-date information on termites, ants, and cockroaches as well as more than 25 common household pests. Find out more information about their behavior, habits, and other cool facts.