Can Orkin control fire ants?
Question: Can Orkin control fire ants? How often does a property need to be treated?
ANSWER: Fire ants are difficult to control for several reasons: the colonies are often very large and extend under the ground a great distance. Colonies often have multiple queens, so they can recover if a part of the colony and a queen or two have been killed, and they often occur in large numbers, so that when you have eliminated one colony another will likely move in to occupy the space.
There are a variety of products that can be used inside and outside for control of these ants. Because fire ants can be sometimes a danger to humans and pets, it is a good idea to consult with professionals regarding ways to control them. Call your local Orkin Branch office to set up an inspection of your property. A highly trained Orkin Pest Specialist will come to your home and conduct a thorough inspection inside and outside. The Orkin Specialist will develop a customized treatment plan backed by science that best meets your needs.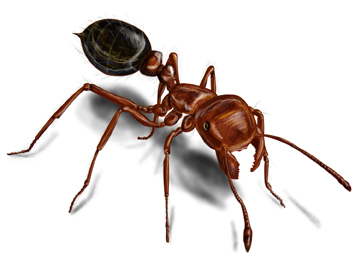 Red Imported Fire Ant
Related Questions: The Orkin Man used the information above to also answer the following questions submitted by Orkin.com users:
Question: I have ants. I called about what I can do, and they told me that I could get an initial visit done, and then an additional three visits to control them. Do I need all four visits? ANSWER: Ant control is usually not done with one application. It may take three or more, depending on the infestation.
Question: I live in north Texas. My yard has ant mounds all the time … I believe they're fire ants. I tried killing with stuff bought from Home Depot. It seems to get rid of that mound but another one shows up again later. How can I totally get rid of ant mounds?
---
Our Pest Library
Find out more about your suspects
Our Pest Library is full of up-to-date information on termites, ants, and cockroaches as well as more than 25 common household pests. Find out more information about their behavior, habits, and other cool facts.