The 20 Worst Mosquito Cities in the U.S.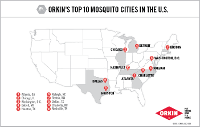 When you think of summer, what's the first thing that comes to mind – swimming pools, barbeques, maybe even baseball? Well here at Orkin it's all about mosquitoes. But why all the buzz? Summer is prime mosquito season. Warmer temperatures mean these pests will be out in full force in many areas of the country, particularly the Southeast.
We ranked the top mosquito cities in the country by the number of mosquito services performed in 2014, and of the top 20 cities listed, nine were located in the Southeast – more than any other region:
Atlanta
Chicago
Washington, D.C.
Detroit
Houston
Raleigh – Durham, N.C
Boston
Dallas – Fort Worth
Charlotte, N.C.
Nashville, Tenn.
Memphis, Tenn.
Grand Rapids – Kalamazoo – Battle Creek, Mich.
Miami – Fort Lauderdale
Richmond – Petersburg, Va.
Minneapolis – St. Paul
New York
Cleveland – Akron
Greenville – Spartanburg, S.C., Asheville, N.C.
Albany – Schenectady – Troy, N.Y.
Knoxville, Tenn.
Mosquitoes can affect people in every state, so even if your city doesn't appear on Orkin's top 20 list, you should still be aware of the health risks associated with mosquitoes.
Diseases Caused by Mosquitoes
Unfortunately, mosquitoes can be more than just a nuisance. Mosquito bites can transmit West Nile virus and other conditions that cause encephalitis -- or swelling of the brain -- as well as a relatively new virus in the United States called Chikungunya virus.
So far this year, the more than 70 reported American cases of Chikungunya virus occurred in travelers returning from the Caribbean and other affected areas outside the U.S. In 2014, more than 2,400 cases were reported in travelers, and nearly a dozen locally transmitted cases were reported in Florida.
There is no cure or vaccine for Chikungunya virus, so preventing mosquito bites is the only protection against the virus.
Mosquito Prevention Tips
The best way to control mosquitoes is by removing the conditions that attract them. To help keep your property from becoming a mosquito breeding ground this summer and reduce the risks associated with mosquito bites, Orkin recommends the following tips:
Empty standing water from bird baths, flower planters and other areas where water may collect, such as playground equipment or trashcans. Mosquitoes only need a small amount of water – just one cup – to breed.
Clean gutters and downspouts regularly or cover them with mesh to prevent leaves and debris from collecting and holding water.
Make sure window and door screens fit tightly and have no holes to keep mosquitoes from making their way indoors.
Encourage guests, tenants and employees to apply an EPA-approved insect repellent before heading outside, and wear long sleeves and pants outside from dawn to dusk, which is prime time for most mosquito activity.