Southeast Region Leads the Pack of Orkin's 2016 Top Mosquito Cities
Sure, summer is fun. But remember that warmer temperatures and afternoon thundershowers mean it's not only beach season, but also mosquito season. Once again, we've ranked the top mosquito cities in the U.S. based on the number of mosquito customers served in 2015, and the Southeast has dominated the list. In fact, half of the communities in the Top 10 are from the southeastern corner of the country:
Atlanta
Chicago
Washington, D.C.
Detroit
New York
Dallas-Ft. Worth
Nashville, Tenn.
Charlotte, N.C.
Raleigh-Durham, N.C.
Boston
Out of the top 50 cities on our list, the leading four cities are all unchanged from last year, but New York City moved up nine spots to fifth place.
Annoying and Potentially Dangerous
More than mere pests during a June picnic, mosquitoes have been in the news as of late, thanks to the South American outbreak of Zika virus, transmitted through mosquito bites. Though its symptoms can be rather mild, evidence supports a link between Zika virus and long-term health outcomes, such as severe birth defects when contracted by pregnant women, as well as some cases of Guillain-Barre Syndrome in adults.
The anxiety surrounding this outbreak is fueling uncertainty in some areas of the U.S. prone to high levels of mosquito activity. Coupled with the other threats of disease posed by a wide array of mosquitoes, it's more important than ever to focus on preventing mosquito activity on your property. Prevention, though, starts with knowledge: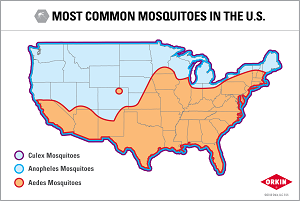 The most common mosquitoes in the U.S. are the Aedes, Anopheles and Culex:
The Aedes, which are concentrated in the Southeastern portion of the country with some pockets in the Midwest and West Coast, carry not only the Zika virus, but also the Chikungunya virus and Dengue fever. Aggressive daytime biters, they're commonly referred to as Asian tiger or yellow fever mosquitoes.
Common throughout the Eastern U.S., the Anopheles can spread malaria, as well as dog heartworm. They're most active at dawn and dusk.
Culex mosquitoes are also most active at dawn and dusk, and they've been linked to the transmission of the West Nile virus.
Keeping Mosquitoes at Bay
Knowing your enemy is key, and understanding how to fight them is the next step. To reduce the risks associated with mosquito bites, rely on the following tips:
Remove standing water: Mosquitoes can breed in only a few inches of standing water, so it's important to be vigilant in clearing any water you find or ensuring water is circulating. Consider these everyday summer fixtures that can contribute to potential mosquito growth:
Water features like fountains and bird baths
Retention ponds that swell after runoff from rain
Thick, dense landscaping that can trap small pools of water after rain or watering
Don't get bit: It sounds easier said than done, but your staff and others should take steps to minimize bites, especially in outdoor areas on your property. Encourage them to wear long pants and long-sleeved shirts, and to use an EPA-registered repellent containing one of the following active ingredients: DEET, picaridin, oil of lemon eucalyptus, para-menthane-diol or IR3535.
Keep them out: Air conditioning not only keeps you cool during the dog days of summer, but also helps keep mosquitoes at bay. Ensure there are no gaps around windows and doors, and check for holes in any window and door screens. Work with your HVAC professional to establish positive air pressure so any mosquitoes that attempt to enter your building will be pushed back outside.
Want more? You might also like: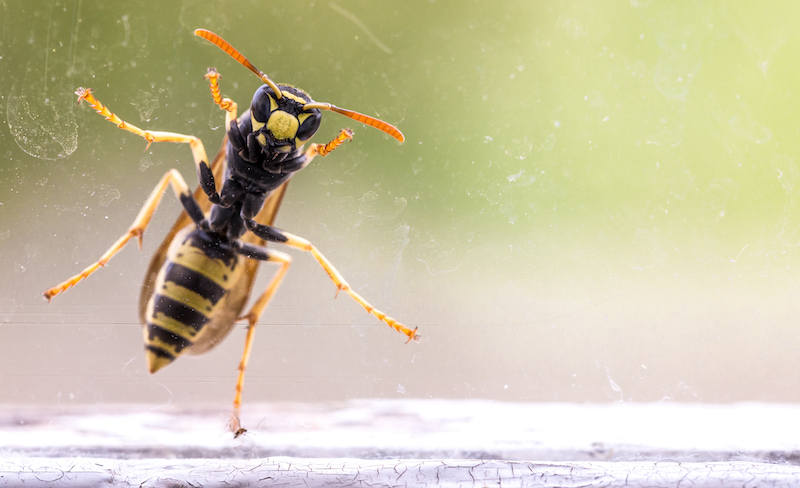 Preparing your business for a post-pandemic climate? Don't forget to plan for handling summer pests, especially those that fly. Flying insects are particularly active during the warmer months. Customers are looking to get back to some form of normalcy and will expect to feel safe when they …
The year 2020 brought us many surprises, including an influx of rodent headlines. Throughout the year, rodents made an appearance across the U.S. in alarming ways, demonstrating aggressive behavior due to a lack of food sources during the coronavirus pandemic and transmitting rat Hepatitis E to …
As you reopen your business, there are several things you will want to consider when it comes to pest control—especially if you paused your pest management service during the pandemic. With lighter human foot traffic and, as a result, less access to food and water, certain pests may …