Fleas in Bedding
How Do Fleas Get in the Bed?
Fleas are not usually found infesting a homeowner's beds and bedding. Fleas that are observed in beds and bedding are most likely there only to take a blood meal or were perhaps dislodged from the animal if the pet is allowed to sleep in the same bed as the homeowner. However, if the homeowner does not wash and change the bedding for a long while, it is possible that the immature stages of the fleas could possibly take up residence in a bed or bedding.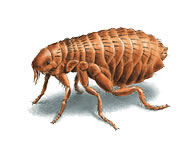 The more likely situation is that flea eggs, larvae and pupae are living under the bed or, even more likely, are living in the bed and bedding of the household pet(s).