Chicago Holds Top Spot on Rattiest Cities List
Pest control leader Orkin released its top 20 rattiest cities. The markets are ranked by the number of rodent treatments the company performed in 2013.
Chicago

Los Angeles

Washington, D.C.-Hagerstown

New York

San Francisco-Oak-San Jose

Seattle-Tacoma

Detroit

Cleveland-Akron-Canton

Baltimore

Miami-Ft. Lauderdale

Dallas-Ft. Worth

Denver

Houston

Atlanta

Boston-Manchester

Minneapolis-St. Paul

Sacramento-Stockton-Modesto

Syracuse

Indianapolis

Charlotte
Fall is a prime time for commensal rodents to actively seek food, water and shelter when temperatures drop and before the winter weather arrives. Each fall, rats and mice invade an estimated 21 million American homes. It only takes a hole the size of a quarter for a rat to squeeze inside, and a hole the size of a dime for mice. Rodents are also known to chew around holes to make them larger, after which they can slip into homes. It is not uncommon for homeowners and businesses to begin spotting rodents beginning in October.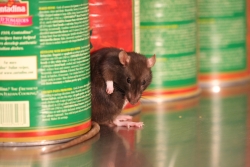 Each city on this list is a major urban area that provides ideal conditions for rats and mice to thrive," said entomologist and Orkin technical Services Director Ron Harrison, Ph.D. "Commensal rodents depend on humans and their resources to survive, so unless residents and city officials take proactive steps to prevent rodents, infestations can easily get out of hand. It's important to remember that this list is based solely on the number of treatments Orkin performed last year. While your city may not be ranked high on the list, that does not mean you should be any less vigilant."
Rodents are more than a nuisance; they also pose severe health threats. They can carry hundreds of pathogens that spread through their urine, droppings and bites. They are known carriers of deadly neurological and respiratory diseases like lymphocytic choriomeningitis virus (LCMV) and Hantavirus Pulmonary Syndrome. Ticks, mites and fleas can feed on infected rodents, which can then transmit diseases like pox, plague and typhus indirectly to humans.
Pregnant women and young children are especially at risk when exposed to rodents. The diseases rodents transmit can cause severe illness or developmental defects in newborns, and rodent droppings can trigger asthma and allergic reactions, especially in children.
According to a 2013 Orkin survey, one-third of Americans saw a rodent in their home in the last year. Rodents eat between 15 and 20 times a day, so nearly 40 percent of homeowners saw rodents for the first time in kitchens. While rodents are commonly found eating human or pet food, they are also found chewing and gnawing other materials, causing damage to furniture, clothing, wiring, insulation and piping.
The following tips help prevent rodents around the home:
Regularly inspect the home – inside and outside – for rodent droppings, rub marks or burrows.

Seal all cracks and gaps around utility penetrations larger than ¼ of an inch, as well as install weather stripping at the bottom of exterior doors.

Trim overgrown branches, plants and bushes near the home, and consider keeping a 2-foot barrier between any landscaping and the home.

Store all food (including pet food) and garbage properly in sealed containers both indoors and outdoors.

Remove all pet bowls after animals are finished eating, and remove pet waste from the lawn promptly.

Contact a pest professional for assistance managing rodents, as these pests can be dangerous and difficult to control.
For more information about rodent prevention, visit Orkin.com.
Connect with Us
Our customer care team is available for you 24 hours a day.
Find a Branch
Our local Pros are the pest experts in your area.