Prevent Bed Bugs During The Holidays
November 1, 2013

[audio:https://cdn.orkin.com/podcasts/money-pitt/november-tmp-pest-prevention-podcast.mp3]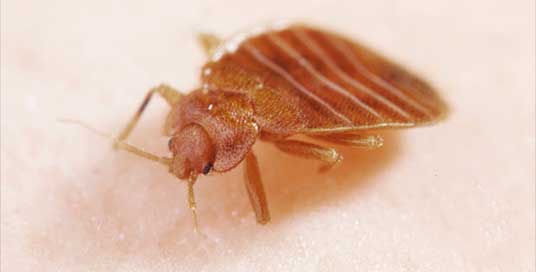 TOM KRAEUTLER Welcome to the Money Pit Pest Prevention Podcast, presented by Orkin. I am Tom Kraeutler. Well as kids we often heard our parents put us to bed with the advice, do not let the bed bugs bite. But these days getting bit by a bed bug is no joking matter. Over the last decade, bed bugs have made a huge resurgence and one way they spread quickly is through traveling. In fact, according to the AAA, 43.6 million Americans are planning to take to the roads, the skies and the railways during the holiday season, and if you have a trip planned it is a good time to learn how to prevent these tiny hitchhikers from coming home with you.

Greg Baumann is the Vice President of Training and Technical Services for Orkin and he is here with details on how to identify bedbugs as you travel and tips to make sure that you do not bring them home with you when you return. Welcome Greg.

GREG BAUMANN Thank you Tom. It is a pleasure to be here. TOM KRAEUTLER Well with Greg's help, coming up in this episode of the Money Pit's Pest Prevention Podcast we are going to learn why holidays are a busy season, not only for shoppers but also for bed bugs. We are also going to find out five simple steps that you can take to make sure your holiday travel does not have a bed bug problem and learn exactly what to do if you discover or suspect you have a bedbug problem in your very own home. So Greg, let's start by talking about why the holidays are such a hot time for bed bugs. GREG BAUMANN Well think about the holidays, it is a time where people are moving around a lot more, whether it could be going to parties, traveling to relatives' houses or friends' houses — a lot of human interaction. And anytime we have bed bugs associated with people's personal belongings we increase the chances of bed bugs being spread by moving them back and forth. TOM KRAEUTLER Yes, that is a good point, in fact the Federal Aviation Administration has a list of the nation's 35 busiest airports and I understand that Orkin has a list of the top bed bug cities and 30 of those busiest airport cities are part of that group. GREG BAUMANN That is exactly right. What this really tells us is that the busiest airports are going to be found near the most populous areas. So the most populous areas are more subject to bed bug infestation than say rural areas, just because of human interaction. TOM KRAEUTLER Now bed bugs are an insect that I think a lot of folks would not recognize if they see. What they more commonly recognize is if they have been bit by bed bugs, so how do you inspect your belongings, your hotel room and the area around your bed? How do you inspect that for bed bugs before you slip under those sheets? GREG BAUMANN Well lets keep in mind that bed bugs are nocturnal, so they are typically not going to come out there in the day, they are elusive in that they are going to hide wherever they can, and they are transient, which means that they are great hitchhikers. So with that in mind, they are not going to be walking across the floor typically. They are about the size of an apple seed when they are fully grown and about the same color of an apple seed, believe it or not. Typically flat, if they have had a blood meal, which they need to molt or shed the skin, then they are going to be more of a swelled appearance.

I also want to point out that many times insects will feed on blood but it is for eggs, both males and females feed on blood, so twice as many insects feed on blood as with mosquitoes.

TOM KRAEUTLER Wow, what a pleasant thought. GREG BAUMANN Yes. TOM KRAEUTLER We are talking to Greg Baumann, he is the Vice President of Training and Technical Services for Orkin. Now you guys have an acronym that you put together to help remind folks what to check for when they are travelling and you call it SLEEP. You start with survey, what does that mean? GREG BAUMANN Well survey means just look around you. Look for signs of small blood droplets, where black smears on sheets, or even on the wall, and just being a little vigilant on trying to figure out if there is a potential infestation near by will go a long ways. No question about that. TOM KRAEUTLER Now you also say to lift and look so you would be examining the bedding to see if you find bed bug evidence. GREG BAUMANN  Look at the bedding, look at any sofas, and this is not just in areas that you might not live or where you are going to visit people. Yes, it could be in a hotel but it also could be in areas such as offices, believe it or not. We always think of beds as somewhat of a misnomer, they are not always near the bed. They are wherever people are going to be found so lift and look your suitcases if you are travelling. Look around, inspect and look for any signs of these smears. TOM KRAEUTLER Now another good tip that you guys suggest, is to elevate and I guess we are talking about your luggage. You want to not put that on the ground, I guess so bed bugs cannot hop on in? GREG BAUMANN Yes, if you are travelling elevating your luggage is a really good idea but beware those beautiful little racks that you used to put your luggage on, say in a hotel or whatever? TOM KRAEUTLER Yes. GREG BAUMANN So many times they are made of hollow steel, there are these holes in the bottom, and bed bugs can pack themselves into those areas. So using a luggage rack might not be the best idea. Just get it off the floor on a chair perhaps. Or even inside the bathroom, maybe on the side of the bathtub. TOM KRAEUTLERThey also say to examine because when you travel you have to not only be aware of your remote location but when you come home and unpack that luggage, I guess you need to be very careful to examine its contents carefully to make sure you did not take a little something extra home with you. GREG BAUMANN Well that is exactly right. There are two stages, first of all before you pack your bag and you start to assemble your items to back into the bag for your trip home, look for any signs of bed bugs. Look for any signs of smears, and then once when you get home, when you are unpacking, I like to suggest to people wash everything that has been inside your bag. Even if you have not worn it because it is just a good practice and if there is something that you think might have bed bugs, throw it the dryer for about 15 minutes. That will really go a long ways to reducing the chances of bed bug infestation. TOM KRAEUTLER Well that is a great tip and finally you say to get professional help, obviously if you have a bed bug infestation. This is not something that consumers can generally handle on their own is it? GREG BAUMANN Bed bugs are extremely difficult to control and extremely hard to find, especially if you are looking for the source. So at Orkin, we have trained our specialists with the best skills out there and the best tools available for control. TOM KRAEUTLER We are talking to Greg Baumann, he is the Vice President of Training and Technical Services for Orkin. Greg, we have been talking about bed bugs and how they bite but that is not the only insect inside a house that can inflict a bite. Fleas are also pretty common this time of year and really throughout the year. So how do you know the difference between a flea bite and a bed bug bite? GREG BAUMANN Nobody can take a look at bits and diagnose what type of insect caused them. However, bed bug bites are typically more like whelps and flea bites are more like mosquito bites and they itch an awful lot more than bedbug bites in most people. Also bed bug bites can manifest themselves days after someone is bitten and that is really interesting and that it varies from person to person. TOM KRAEUTLER So I could react differently to a bite than you could react? GREG BAUMANN Yes, and with holiday travel you may have gone into a hotel room where there was an animal right before you checked-in, or you may have gone to visit relatives with your pet and you bring fleas back home, so that is a concern as well. TOM KRAEUTLER Now speaking of fleas, I spent 20 years as a professional home inspector, I remember a number of times over the years where I knowingly stepped into a home that was heavily infested by fleas, and it does not take long to see these black specks jump up on you. If you run into a house that is like that, or if your own home seems to have picked up a flea infestation, how do you treat for that as a pest control professional? GREG BAUMANN Well the products that are available today that are extremely helpful in controlling fleas, many of them will regulate the growth of fleas, and we do not have those products available yet for bed bugs. But flea control can easily be done with proper inspection, identification of the flea and treatment of a growth regulator as well as a product that is going to provide long lasting control. TOM KRAEUTLER Greg Baumann, Vice President of Training and Technical Services for Orkin. Thanks so much for being a part of the Money Pit Pest Prevention Podcast. GREG BAUMANN Thank you very much. TOM KRAEUTLER  And if you would like to learn more about how to identify and prevent pest problems in your home, visit Orkin.com. The Orkin.com site is full of useful information to help identify and eliminate insect problems in and around your home, including a pest library, where you would be able to look-up any pest you come across, as well as locate a local Orkin Pest Control pro to help eliminate those pests. It is all online at Orkin.com. Orkin. Pest Control Down To A Science. I am Tom Kraeutler, thanks for listening.