Orkin's Company History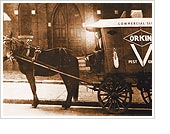 In 1901, Otto Orkin, the son of Latvian immigrants, started selling rat poison door-to-door to neighboring Pennsylvania farmers. Even as a boy, he understood that to catch a pest, you have to think like a pest, so he carefully observed the rats in the farmhouse attic to understand their behavior. By 1912, he had opened his first office in Richmond, Virginia. However, he expanded into other cities, and in 1926, he moved his headquarters to Atlanta, Ga. He eventually branched out into pests such as cockroaches, bedbugs and even termites. Orkin introduced The Orkin Man™ to television viewers in the 1950s with the company's first series of commercials. Beginning as a cartoon, "Otto the Orkin Man" evolved into The Orkin Man™ pest management icon we know today. In 1964, Rollins, Inc. purchased Orkin Exterminating Company, Inc. from the Orkin family and helped turn the business into one of the largest pest management companies in the United States.
View the Orkin history timeline.
Schedule a free consultation
Give us a call: 844-512-4776
Or schedule a call with an Orkin Specialist today and get a FREE estimate for:
Field Notes
Insights for your business