House Mice
Facts, Identification & Control
Latin Name
Mus musculus
Appearance
House mice are covered in short hair that is light brown or gray to black in color, with lighter bellies. Their ears and tail also bear hair, although much less than their bodies. Adult mice weigh approximately 12 to 30 grams and can grow up to 20 cm from the nose to the tip of the tail. Droppings are rod-shaped and pointed on both ends.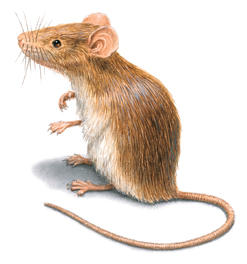 Behavior, Diet & Habits
Normally, the house mouse makes its home in farm fields, grassy and wooded areas, building nests in areas that are dark and protected from the elements and close to a readily available food source.
Very inquisitive in nature, the house mouse will spend the day roaming its territory, exploring anything new or out of the ordinary. When available, the house mouse prefers seeds and nuts in its diet, but this opportunistic feeder will eat almost anything available.
When the temperatures outside begin to drop, house mice, since they don't hibernate, begin searching for a warmer place to live. Often attracted by the smell of food and the warmth of a structure, the house mouse can use any opening, such as utility lines, pipe openings, and gaps beneath doors, to gain entry into a home.
House Mouse Control Tips
To prevent mice from entering the home, all cracks, crevices, holes and gaps larger than a pen cap should be sealed with cement or a mixing compound. It is not advised that wood be used to seal these holes, as mice are capable of chewing through those surfaces.
Cleanliness may also have an effect on pest infestations. Be sure to wash dishes immediately following use. Food should be stored in glass or metal containers with tight lids. Mice acquire most of their water from scavenged food particles and no crumbs or morsels should be left on tabletops or floors.
When a home is already infested, prevention methods prove inefficient. The most effective mouse control methods are those administered by trainedprofessionals.
More Information on the Common House Mouse
The house mouse is a small mammal named for its propensity to live within human habitats. Next to humans, the common house mouse is one of the most prevalent mammalian species in the world. Native to Asia, these rodents have spread throughout the world. They are most commonly seen living within or near human habitations. They may also be used as laboratory subjects and contribute greatly to scientific studies.
House mice walk, run and stand on all fours. They can stand on the hind legs, as well, and are supported by the tail, which also provides balance while in motion. The house mouse has a sharp sense of hearing and communicates with other house mice through squeaks. Some of these squeaks are audible to humans, while others extend into the ultrasonic range. The common house mouse weighs between 12 to 22 grams and may grow up 20 cm in length. They are black to light brown or gray in color, with short hair and lighter bellies.

How to Find a Dead Mouse in the House
Signs of a House Mouse Infestation