Eastern Equine Encephalitis Virus (EEEV) & Mosquitoes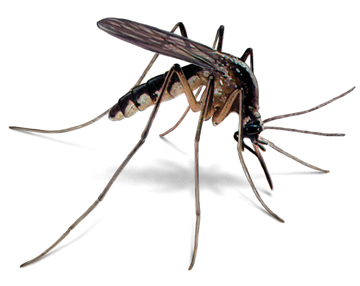 HOW IS EEEV TRANSMITTED?
Eastern equine encephalitis virus (EEEV) is transmitted by the bite of infected mosquitoes and is not transmitted directly from one person to another.
WHAT TYPE OF MOSQUITOES TRANSMIT EEEV?
EEEV human transmission begins with the bites of infected Culiseta melanura mosquitoes and results in the virus being transmitted to birds. However, since Culiceta melanura mostly takes blood meals from birds, the mosquito species is not known to transmit EEEV to humans.
EEEV transmission to humans involves the bites of some Aedes, Coquillettidia, and Culex mosquito species that feed upon infected birds and then transmit the virus from birds to people.
WHERE ARE THE MOSQUITOES TYPICALLY DISTRIBUTED?
The mosquitoes that transmit EEEV are usually found in and around freshwater hardwood swamps in the Atlantic, Gulf Coast and Great Lakes states.
SYMPTOMS OF EEEV
Symptoms of EEEV usually appear within 4-10 days following a bite from an infected vector. EEEV infection can result in one of two types of illness – symptomatic or asymptomatic.
Symptomatic disease involves:
Brain swelling
Fever
Headaches
Restlessness
Drowsiness
Loss of appetite
Vomiting
Diarrhea
Convulsions
Coma
About 1/3 of the people with symptomatic disease die. Those who are asymptomatic will show no symptoms of illness and usually suffer no serious effects of the disease.
Horses are very susceptible to EEEV infection and in some cases infection results in death.
IS EEEV IN THE US?
EEEV is not common in the United States, and only about 5-10 human cases are reported each year. Most reported cases are from Atlantic and Gulf Coast states, plus some cases in the Great Lakes states. A majority of EEEV incidents occur between late spring and the beginning of fall.
PREVENTION & TREATMENT OF EEEV
Actions that will reduce exposure to mosquito bites are the best EEEV prevention measures.
These include:
Using insect repellent when outdoors
Wearing long sleeves and long pants
Keeping mosquitoes out of your home
Making sure that water sources where mosquitoes can breed and develop are kept to a minimum
EEEV treatment consists of supportive treatment by health care provider since no human vaccine or specific viral drug therapy exists.

REFERENCE: http://www.cdc.gov/EasternEquineEncephalitis/