Mosquito Control
FIGHT THE BITE®
Mosquitoes suck, literally. That's why Orkin's mosquito control service targets these pests so they don't target you.
An Orkin mosquito service plan provides:
A combination of treatments to break the mosquito's life cycle, preventing larvae from becoming breeding, biting, and potentially disease-carrying adults
Monthly or one-time treatments during mosquito season safe for family and pets
Added protection from mosquito-borne diseases, such as Zika, West Nile Virus and Chikungunya
HOW ORKIN TREATS FOR MOSQUITOES
An Orkin mosquito treatment plan begins with a thorough property inspection by a highly-trained pest control technician to locate and identify mosquitoes and the places they breed in and around your home. Once the inspection is complete, your Orkin technician will prepare a mosquito treatment plan that's right for you.
MOSQUITO CONTROL TREATMENTS
At Orkin, we have invested millions to develop award-winning training programs for our pest professionals that extend well beyond the classroom.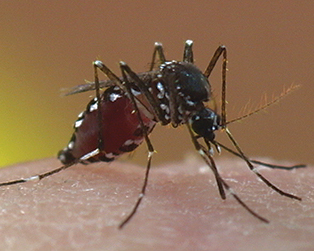 Apply microbial insecticide to greatly decrease mosquitoes in their water breeding environment
Apply insecticide to area vegetation adult mosquitoes use for sheltering
Apply insect growth regulators to prevent the development of mosquitoes near water
PEST CONTROL DOWN TO A SCIENCE®
When we treat your home for mosquitoes, we'll give you a customized solution based in science. With award-winning training and advanced technology, your Orkin technician will look for conditions that invite mosquitoes, tackle current infestations, and stop the life cycle to help reduce the number of mosquitos in your yard.
Keeping them away is not a one-time event, it's a process and you can trust that your Orkin technician will work diligently to deliver unique solutions — rooted in science — to help you take back your yard.
THE ORKIN GUARANTEE
If you're not satisfied with the results during the regularly scheduled treatment, Orkin will continue to work to solve your problem until you're satisfied. If your Orkin technician can't solve your mosquito problem, Orkin will refund a portion of your service charge as long as you're a customer.
Did You Know?
Mosquitoes are one of North America's most dangerous pests? Some species transmit West Nile virus and other viruses that result in seasonal outbreaks in North America during summer and fall. Our mosquito service targets these pests so they don't target you.