Repairing Termite Damage
Termites are known to cause severe damage to homes, sometimes costing thousands of dollars in repairs that are not typically covered in standard insurance policies. Discovering damage at your home is an unsettling experience, but a trusted pest control professional can help.
Types of Damage
Signs of termite damage include buckling ceilings or walls, the appearance of water damage, maze-like designs in wooden structures, mud tunnels on home foundations or swarms of termites themselves. Unfortunately, these signs often indicate that you've had a termite problem for a while and that a colony is thriving.
Advanced termite damage can greatly affect the structural integrity of your home, even causing ceilings or floors to collapse. However, if damage does not affect your home's structure, your family's experience at home can still be impacted by ruined carpeting, walls, furniture or flooring. Whether your termite damage is structural or aesthetic, immediate action should be taken before conditions worsen.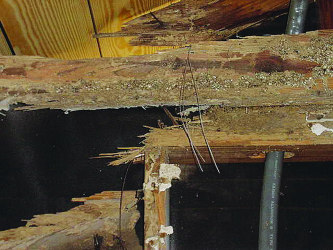 Wood Ceiling Damaged by Termites
How to Repair Termite Damages
Although termite damage may be reversed through professional repair, homeowners should first call a local termite specialist. Repairs should not be made until a licensed pest professional has confirmed that there are no longer termites present and the risk of further infestation has been eliminated. The termite inspector will be able to offer services to deal with active infestations as well as preventatives. He or she can also check to ensure all termite damage is accounted for, so you know exactly what needs to be repaired. Taking these steps will prevent further costly repairs in the future.
After ensuring that your home is free of termites and risks of future infestation, existing damage should be repaired. Contacting several local contractors for estimates may be a good idea before repairing termite damage.
Prevent Costly Termite Damage Repairs
Structural failure can be prevented or is much less likely to occur with annual termite inspections and treatments. Orkin provides a two-part report, both describing present damage and also identifying areas that might make your home more susceptible to termite problems. Some places that are important to inspect include woodpiles, under plant debris, dead or dying shrubs or trees on the property, crawl spaces, siding, exterior and interior wall voids, decks, loose paneling, and areas with increased moisture. Adhering to an annual termite inspection schedule will help prevent infestation and expensive repair costs.
If you believe you've found termite damage in your home or just want some peace of mind, call an Orkin termite specialist for a free inspection.