Training-Certification
It takes a lot to be The Orkin Man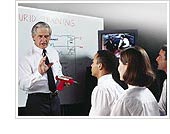 At Orkin, we have invested millions to develop award-winning training programs that extend well beyond the classroom. Each Orkin Commercial Pest Specialist is trained in Orkin's Commercial Training & Certification Program, which includes:
Formal accredited class work from Purdue University.
Treatment techniques that conform to standards set by AIB International, NSF Cook & Thurber, Silliker, SQF and many others, assuring the smartest and most effective pest management program available.
Training in specific protocols for your industry, as well as federal, state and local regulatory requirements.
Orkin University & Training Center
No investment in employees has defined Orkin's commitment more visibly than the Orkin University & Training Center. The Atlanta facility includes a mock hotel room, restaurant kitchen, hospital room, bar, food storage warehouse, food retail aisle, rooftop air ducts and other "real-world" settings to provide trainees with the hands-on experience they need to meet the specialized challenges of commercial environments.
"Orkin TV" Satellite Training Network
Our interactive satellite television communications network creates a live virtual "classroom" for our nearly 8,000 employees. This allows for in-depth training in real time at our locations across the country, so you can be sure your Orkin Commercial Pest Specialist is up to date on the latest pest management techniques, no matter where you are.
Don't Take Our Word for It
Every year since 2003, Orkin has been recognized on
Training
magazine's prestigious Top 125 list, and has also been featured among the magazine's Editor's Choice honorees — so you know you're getting expertly trained professionals.