Bed Bug Dog Inspections: Hire Bed Bug Sniffing Dogs
What to Know about Bed Bugs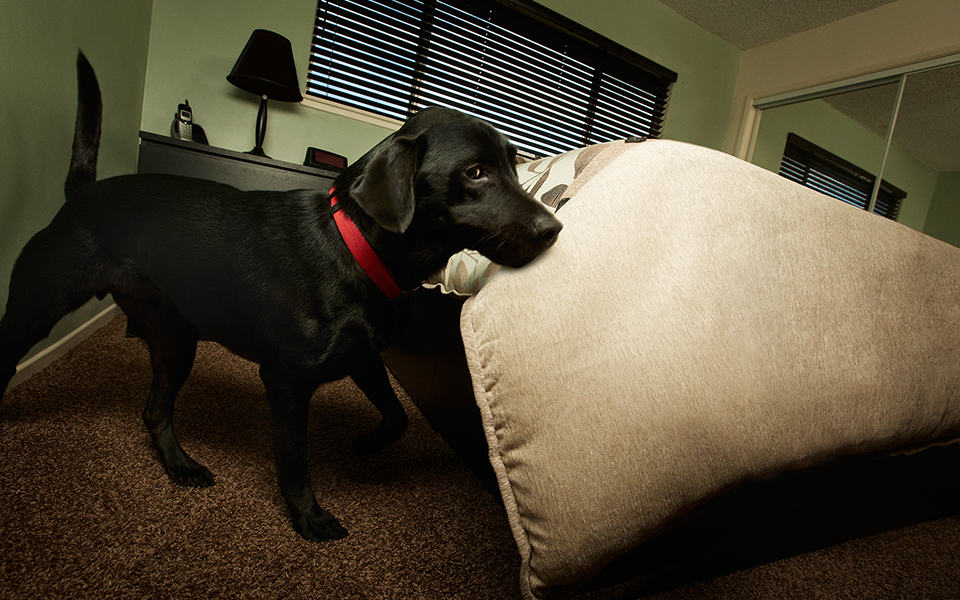 Why We Need Bed Bug Dogs
Everyone has heard the phrase, "Sleep tight. Don't let the bed bugs bite." The fact is
bed bugs are biting. Complaints continue to rise as the problem spreads across the globe.
What You Need to Know About Bed Bugs
Size and Feeding Habits
About the size of an apple seed, bed bugs hide in mattress seams, behind base boards, in furniture and anywhere else close to a human host. Bed bugs tend to emerge at night in search of a food source: human blood. After feeding, bed bugs can leave some people with itchy, red welts. While bed bugs are not known to cause disease, they can put your company's reputation at risk.
Bed bugs are virtually impossible to prevent. They can thrive in spotlessly clean environments, overriding the best sanitation efforts.
How Bed Bugs Infest Property
These pests can hitchhike into your property on personal belongings, shipments, or even on your next guest. Bed bugs multiply at rapid rates. In just one month, two bed bugs can produce more than 150 offspring.
It takes just one incident to affect your business and impact your bottom line. That's why your pest management partnership is so critical, and why a bed bug dog can help.
The Orkin Bed Bug Dog
Your New Partner in Pest Management
Bed bugs reproduce quickly, so it's crucial to detect and treat for bed bugs early.
At Orkin, we continue to research and implement innovative, scientific pest management techniques to help protect your business. That's why we have a team of trained canines ready to spot bed bug infestations.
Orkin's bed bug detection dogs join our team of Ph.D.s, entomologists, and sanitarians, to provide an extra set of eyes and a keen sense of smell to help "spot" any bed bug problems you might face.
How Can Your Business Benefit from Bed Bug Sniffing Canine?

Here's what to expect with the help of a bed bug dog:
Accurate Results: Did you know that dogs have about 45 times more smell receptors than humans do? This keen sense of smell makes them the new experts on bed bug detection.
Quick Detection: Bed bug canines can easily find the areas where bed bugs reside, and detect them quicker than their human counterparts. Faster detection can speed up the treatment process and allow you to get back to business as usual.
Trusted by the Law: Working canines have a long history of expertise, especially when it comes to their most valuable tool – the nose. Federal, state, and local government agencies employ dogs for search and rescue missions. Law enforcement agencies also use canine units to detect drugs and sniff out bombs.
Peace of Mind: Each Orkin Commercial Pest Specialist is a skilled service technician who has undergone formal accredited class work from Purdue University and is well versed in treatment techniques. The Orkin Man® plus The Orkin Dog – a formidable bed bug detection team.
Award Winning Training
No pest control company puts as much into training its pest specialists and bed bug dogs as we do.
Consistently appearing in Training magazine's Top 125 list, we at Orkin continue to distinguish ourselves from the rest of the pest control pack.
Rest assured, you're getting the most cutting edge and effective bed bug dog management techniques delivered by knowledgeable, expert staff.
Call today to check availability for bed bug dog inspections and to get help with bed bug prevention and control.