Hospitality
Commercial Pest Control for Hotels & Lodging
ORKIN BED BUG PROACT
Eight out of ten hotels have treated for bed bugs in the last year. Learn how our proactive bed bug service designed for hotels helps reduce the risk of bed bug infestations on your property.
PROTECT YOUR REPUTATION – AND YOUR BOTTOM LINE.
It just takes one infested hotel room to stain your property's hard-earned reputation. That's why your pest control partnership is so critical. With Orkin, you get solutions grounded in science for your property, along with the knowledge, training and service needed to help protect your property's occupancy and your bottom line.
YOUR SATISFACTION IS OUR PROMISE.
At Orkin, we take pests seriously. Our comprehensive pest control service is provided by scientifically trained professionals, so the job will be done right. Our Triple Guarantee promises rapid response to help protect you from the pests that threaten your property's reputation. If you need us between service visits, we're there within 24 hours, guaranteed.
---

At Orkin, we understand pest management challenges are unique to every hospitality property, so our products and services are tailored to your needs. Through years of scientific research, Orkin has developed proven solutions for the hospitality and lodging industry. That's why The Orkin Man® will start with a comprehensive inspection of your property to understand the unique challenges your property faces. Our standard Hospitality Precision Protection™ package includes crawling insect and rodent control.
In addition to pest control, your program might include other services such as:
Exclusion – Pests can enter your buildings through doors and small cracks all around the perimeter. Orkin will work with you to seal potential pest entry points and help protect your property by
making it less attractive to pests.
Bed Bug Control – Bed bugs are one of the most serious pest problems facing the hospitality industry, but Orkin can help prevent them from tarnishing your property's hard-earned reputation. To address current bed bug infestations, Orkin will implement an aggressive strategy that includes a comprehensive inspection, treatment of infested areas and follow-up inspections. To proactively defend against bed bugs, learn more about Orkin Bed Bug ProAct®, a service designed to minimize the risk of bed bug infestations and add budget predictability to your spend.
Account Insights – Our customizable dashboard provides a high-level overview of your pest control program, including current pest levels and pest pressure trends. You can also view past service reports and your next scheduled service visit(s).
Bird Control – Birds can be a major nuisance and cause expensive property damage to buildings, roofs and ventilations systems. Even worse, they can spread serious illness to your staff or guests. Our Bird Control program can help protect your property from this difficult problem.
---
Take One Minute to Help Protect Your Reputation
Hotel operators, take comfort. From bed bug training to hospitality industry trends, Orkin has the knowledge and experience to protect your business. Take 60 seconds to learn more about how we service your industry.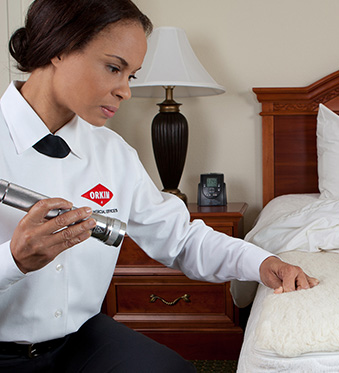 A.I.M.®
An Integrated Pest Management (IPM) program implements proactive measures to discourage pests from infesting your property by limiting access to their basic necessities – food, water and shelter. Our A.I.M. approach to IPM relies on preventive methods to assess pest pressures, implement a custom, science-based pest control strategy and monitor specific pest activity in order to help keep pests from checking in.
---
Paramount Lakeside Inn & Suites is a privately-owned hotel with nearly 180 rooms. The hotel is situated on four acres of land overlooking Lake Parker in Lakeland, Florida. One year after becoming an Orkin customer, General Manager Nathan Manasco writes the following letter of recommendati … Continue reading →
How Orkin Helped Identify and Treat One Hotel's Unusual Pest Infestation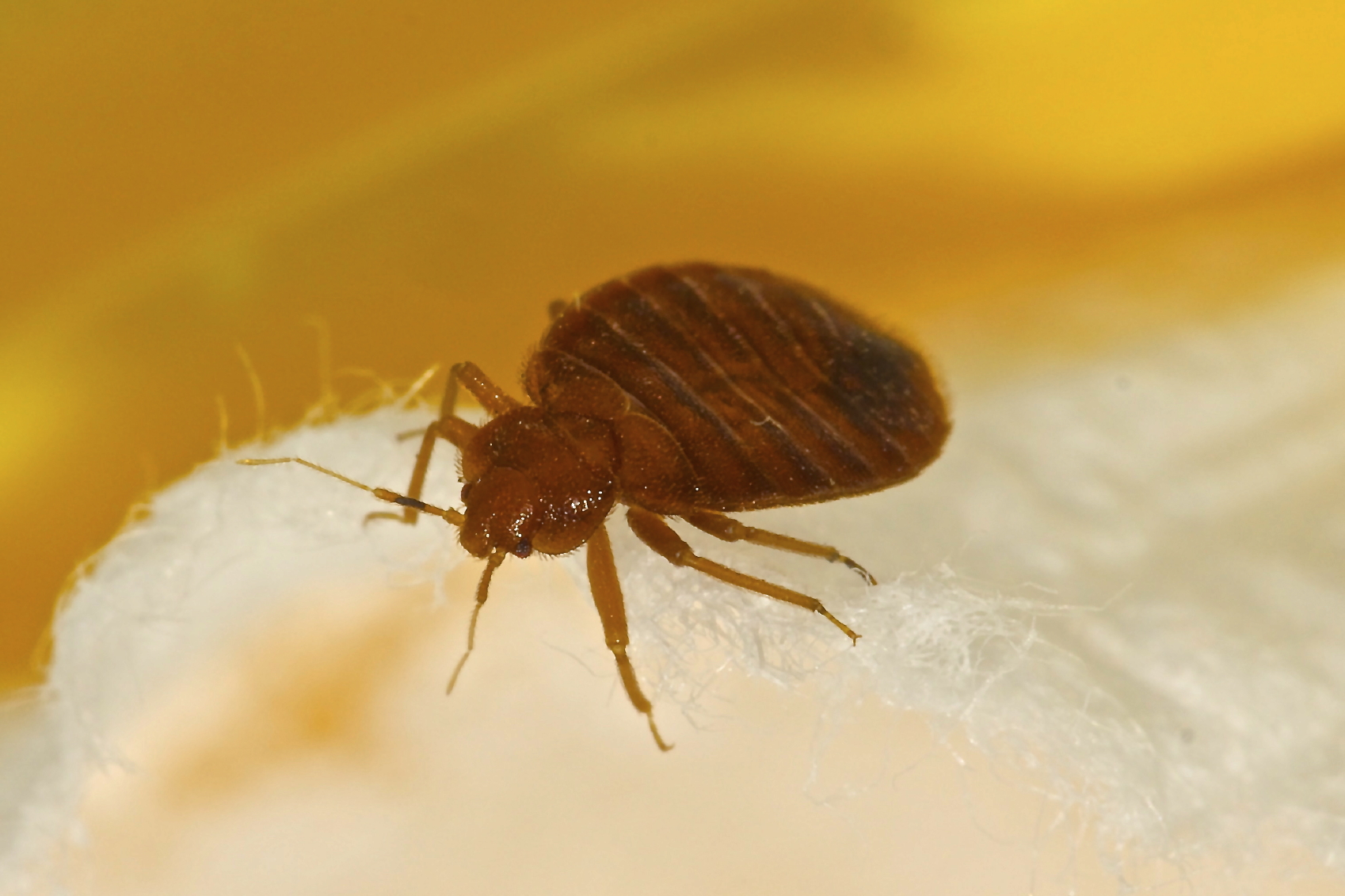 When Orkin received a call from a hotel experiencing guest complaints about bed bugs, Orkin Technical Services Manager Pat Copps expected to find just that – a scenario every hotel dreads, but could experience: a bed bug infestation. What he discovered upon arriving at the scene of the hotel, … Continue reading →
---
---
OUR INDUSTRY PARTNERS
Part of Orkin's scientific method involves learning from our customers and strengthening relationships with them. We are proud and active members of several hospitality and lodging associations, including the National Association for Hotel and Lodging Engineers, the National Association of Black Hotel Owners, Operators & Developers and the Asian American Hotel Owners Association.
Orkin Commercial Services
Triple Guarantee
2 x 24 Response Guarantee

When you see a pest, you need service right away—365 days a year. Orkin makes it easy with a direct priority line to our national customer service department and to your local branch. We'll respond to your request within two hours and if needed have someone on-site at your facility within 24 hours—guaranteed.

Reimbursement Guarantee

Should your company be fined by a regulatory agency due solely to a pest infestation, Orkin will reimburse you for the amount of those fines that are paid.

Should your customer see a roach, rat or mouse in your establishment after 60 days of service, Orkin will:

Repay either you or the customers, as appropriate, the reasonable charges incurred by the customer at time of sighting.
Invite the customer back as Orkin's guest for a regular room night, at our expense.


(See customer agreement for details.)

360° Satisfaction Guarantee

With Orkin, your satisfaction is guaranteed on all sides with three unique 60-day guarantees:

60 day complimentary service if you are not satisfied with the way we begin your service
60 days complimentary service if you're not satisfied at any time thereafter
60 days complimentary service by another provider if you're still not satisfied.
National Accounts Program
Does your business have multiple facilities around the country? Orkin is the preferred vendor for a number of major national brands and services thousands of multi-facility companies in the United States and Canada. Call 1-866-949-6097.
Hospitality is an art. Pest control is a science.
You've spent years developing the perfect formula for your guests' comfort, but a pest infestation can undermine all your hard work overnight.
Studies have shown that hotel guests have zero tolerance for pests, yet pests thrive on the food, water and shelter that the typical hotel offers. That's why having the best matters.
Orkin's Hospitality Precision Protection™ is so effective because it's designed just for your property and entirely based in science, and it's delivered by The Orkin Man®, so you know the job will be done right.
Is your establishment giving pests what they want?
Pests like rodents and cockroaches are attracted to hotels because of the basic biological needs they provide: food, water, shelter and optimal living temperatures. If your property harbors pests, you risk losing business or worse, your property's reputation.
Entry Points: Pests can enter your establishment in many ways, including through doors, windows, vents, plumbing, cracks or holes in walls and floors, or via supplier deliveries.
Water Sources: Pests require water daily, which means water fountains, restrooms, faulty drains, condensation from air conditioning systems and other types of plumbing are attractive breeding grounds.
Harborage Points: Rodents, cockroaches and other pests seek living spaces that are small and dark. Little cracks and crevices throughout your establishment can provide breeding and living areas for pests.
Food Sources: Even minor sanitation mishaps provide adequate food for pests. Cockroaches will eat almost anything – from hair to glue used in cardboard boxes.
High Foot Traffic: The steady, round-the-clock foot traffic in and out of hotels and other lodging establishments gives pests ample opportunity to get inside.
Orkin's service combines a deep scientific knowledge of pests with a thorough understanding of your hotel's unique needs so you can show pests the "No Vacancy" sign.