Proactive Bed Bug Service for Hotels
Bed bugs are not a rare occurrence in hotels. And they're not going away. That's why we developed Orkin Bed Bug ProAct® specifically for the hospitality industry. This proactive bed bug service creates an ongoing perimeter defense against bed bugs in hotel guest rooms. Using a series of proven protocols, Orkin Bed Bug ProAct helps lessen the impact of bed bug introductions and the likelihood of an infestation.
A breakthrough in your hotel's battle against bed bugs, Orkin Bed Bug ProAct offers budget predictability and protection against the disruptive nature of bed bugs. Hear from the Pelican Pointe Hotel & Resort in Florida, where Orkin Bed Bug ProAct helped alleviate the volatility of unexpected expenses and helped reduce the operational impact of bed bugs.
THE STATE OF BED BUGS
With guests constantly coming and going, hotels have a hard time closing their doors to bed bugs. Across the country, hotels are dealing with these bloodsuckers on a regular basis, and the costs – both financial and reputational – are very real. We recently conducted a survey of hotel managers to better understand the bed bug challenges they face. Here's what we found: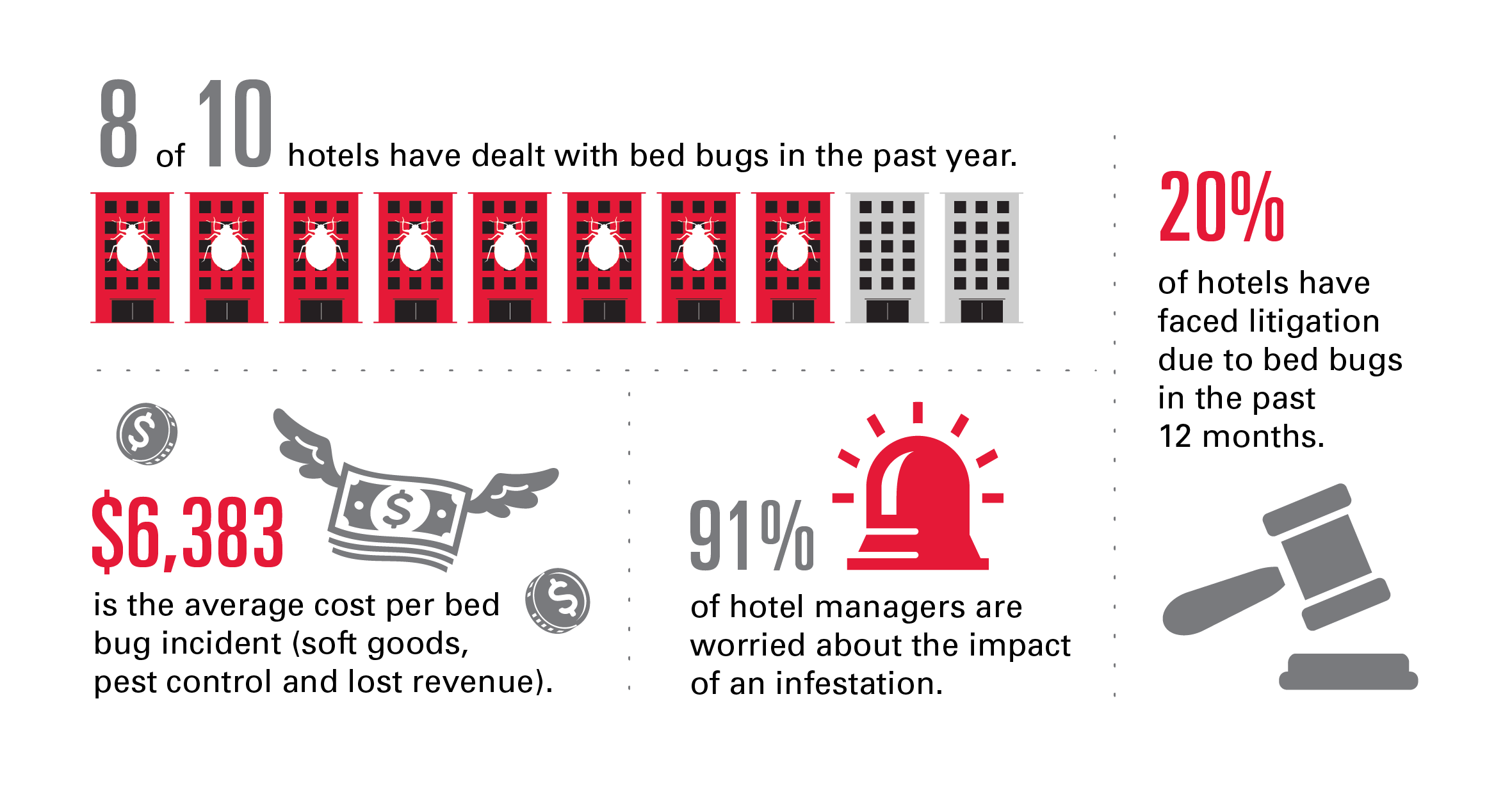 When protecting your hotel from bed bugs, it's important to know what you're up against. One important thing to understand is the difference between a bed bug introduction and an infestation:
Bed bug introductions occur when one or more bed bugs are present, but have not started to reproduce.
Bed bug infestations develop when all bed bug life stages – egg, nymph and adult – are present, and the adults are actively reproducing.
Free On-Site Training
Your staff is your first line of defense against bed bugs, but we know they can be tricky to spot. That's why we offer our commercial customers free on-site training to help your team identify the signs of a bed bug introduction early – before it becomes a costly infestation.
Learn More
WHY BED BUG PROACT?
Luckily, our proactive inspection and treatment protocols can help you find bed bugs early – before they become a serious problem. In addition to reducing the threat of bed bug infestations, Orkin Bed Bug ProAct can help you:
Lessen the impact of an introduction. Our proactive inspection and treatment service help keep bed bug introductions at bay, lower the chance that they'll grow into infestations and make the cost of bed bug protection more predictable.
Quickly turn "out of service" rooms. Finding bed bugs early helps reduce the time that rooms are held out of service for treatment, which helps minimize the impact on your bottom line.
Save soft goods. Bed bug remediation is costlier when you have to discard soft goods and mattresses. Orkin Bed Bug ProAct helps keep your investments safe from the threat of bed bugs.
Avoid negative word-of-mouth. An upset guest can do a lot of damage to your hard-earned reputation. Research shows that bed bug sightings are the number one reason why a guest would switch hotels immediately.[1]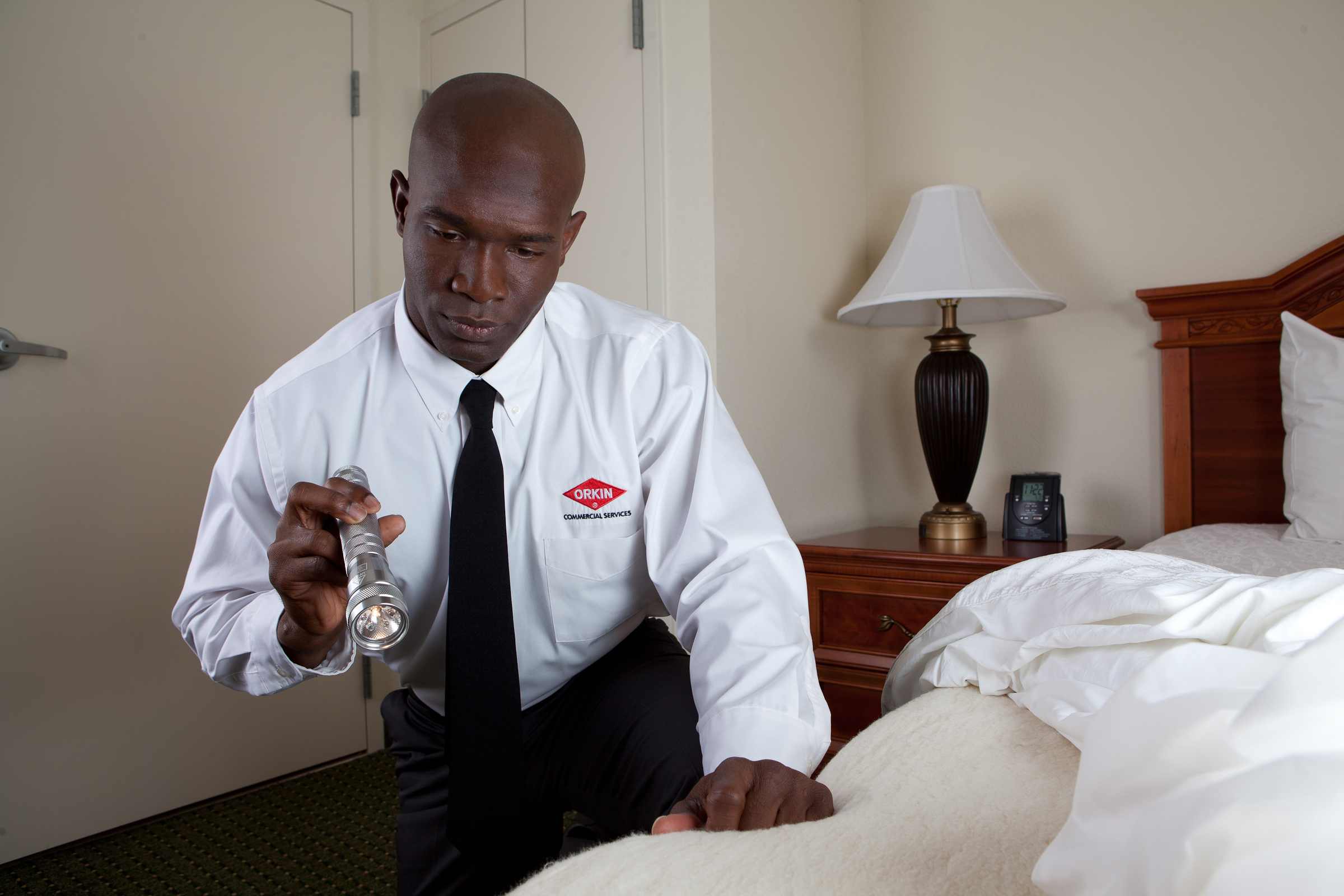 HOW ORKIN BED BUG PROACT WORKS
Innovative and proactive, Orkin Bed Bug ProAct helps provide budget predictability to your annual bed bug spend. Since bed bugs can be brought into your hotel at any time, being proactive helps improve your ongoing defenses and lessens the need for reactive bed bug treatment. Here's how Orkin Bed Bug ProAct works:
Initial Visual Inspections. Our bed bug specialists are expertly trained and will complete a comprehensive inspection of all guest rooms to look for signs of bed bugs or bed bug activity.
Ongoing Proactive Defense. Your bed bug specialist will use proven treatment protocols to create an ongoing bed bug defense in all guest rooms. Targeted treatment of cracks and crevices, where bed bugs tend to hide, can help stop an introduction from growing into an infestation.
Documentation. Regular documentation and communication help ensure the ongoing effectiveness of your service. After each inspection and treatment, your Orkin bed bug specialist will document the details of the services performed and any pests found, so you'll have a full record of your bed bug history.
Staff Training. Your staff is your first line of defense, and making sure they're trained is of utmost importance. As part of your ProAct program, we'll provide an initial staff training so your management, hotel and housekeeping staff are all on the same page.
ORKIN BED BUG PROACT GUARANTEE

We believe in the efficacy of our service, and that's why we guarantee our Orkin Bed Bug ProAct program. As an Orkin Bed Bug ProAct customer, you won't need to worry. If bed bugs are discovered between service visits, we'll return and spot treat impacted rooms at no additional charge.*

*See service agreement for details.

[1] Dr. Mike Potter. Bed Bugs Bite the Wallet of Hotel Owners, University of Kentucky, 2015, https://uknow.uky.edu/campus-news/uk-research-bed-bugs-bite-wallet-hotel-owners
AVOIDING FUTURE COSTLY TREATMENTS
Bed bugs are tiny invaders that cause big problems. Left unchecked, an introduction of just a few bed bugs can spiral into an infestation in a matter of months. That leads to unhappy customers or tenants, costly remediation and reputation damage. Bed bugs are stealthy, able to hitchhike into your property and hide undetected while they go about their nocturnal activities. Let Orkin uncover these pests before they cost you.
Give us a call to get started or request a free pest control audit